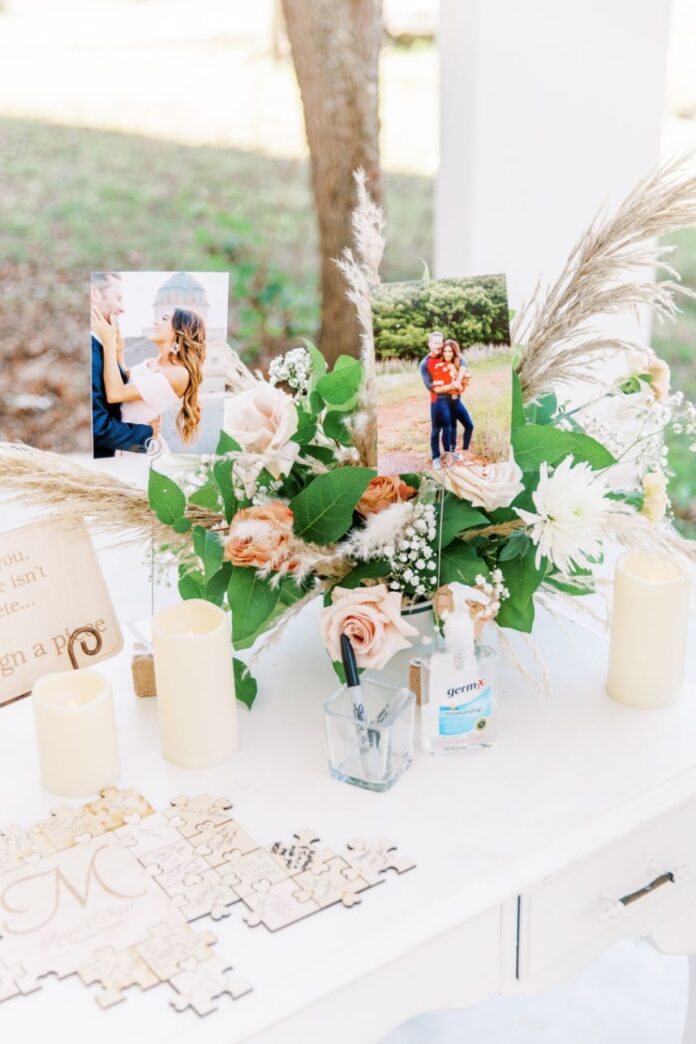 We can't stop obsessing over Angie and Scott's chic earth-tone fall wedding at Sweetbelle Farms. Mr. and Mrs. Miller tied the knot with a November wedding surrounded by family, friends and the most amazing earth-tone florals. Angie shared that a fantastic team of wedding vendors is "a must," and we could not agree more! Angie was surrounded by vendors who cared about making each moment and detail of the day special for the couple. Especially Allyson Whitney Design, who helped Angie plan the month of to create her chic earth tone fall wedding a reality. Angie and Scott's wedding was nothing short of all things chic. Angie looked stunning with bridal makeup by Nadja Theodore MUA, while her handsome groom sported a blue suit from The Wardrobe Modern Menswear. Emotion filled the ceremony when Scott saw Angie's bridal look for the first time as she walked to meet him at the altar. However, one of the most touching moments of the day came when Angie shared a first dance with her five-year-old son.  The wedding guests watched as mom and son got to experience a special moment together.  The dance ended with Angie embracing her son and "new bonus" son to dance as a complete family. Finally, to top it all off with sweetness, Allie's Baking Boutique provided the chicest earth-tone cake with accompanied desserts that we know taste as good as they look. After an emotionally filled day, Angie and Scott made their getaway to the 21c Museum Hotel as the new Mr. and Mrs. Miller. Keep scrolling to see more of Angie and Scott's chic earth-tone fall wedding.
From the bride on her favorite memory: "I opted to do a first dance with my son who had just turned 5 years old. I was a single mom, and it had just been me and him up until I met my husband about a year and a half before that. We danced, and I could feel the love from everyone in the room. I was obviously very emotional as was everyone else feeling our family become complete. Toward the end of the song, I ended the dance by grabbing my new bonus son into the mix and sharing such a special moment with both of my boys!"
The post A Chic Earth-Tone Fall Wedding at Sweetbelle Farms appeared first on Brides of Oklahoma.